We have unlocked this hidden wonderland for a concert series like no other!
Journey into the Barracks at North Head Sanctuary and gaze up into the night sky from the Parade Ground whilst experiencing some of the world's most extraordinary talent.
The event will host an array of local food and beverage providers bringing you a taste of the Northern Beaches. North Head Sanctuary and the Barracks Precinct are an integral part of Australian history and we feel extremely privileged to be able to share this event series with you. To discover more information about the site visit The Harbour Trust website.
We respectfully acknowledge the Traditional Custodians of the land on which we work. We pay our respects to their Elders past, present and future.
Venue Map
Please note this is an artistic representation, for full seating plan see Ticketmaster.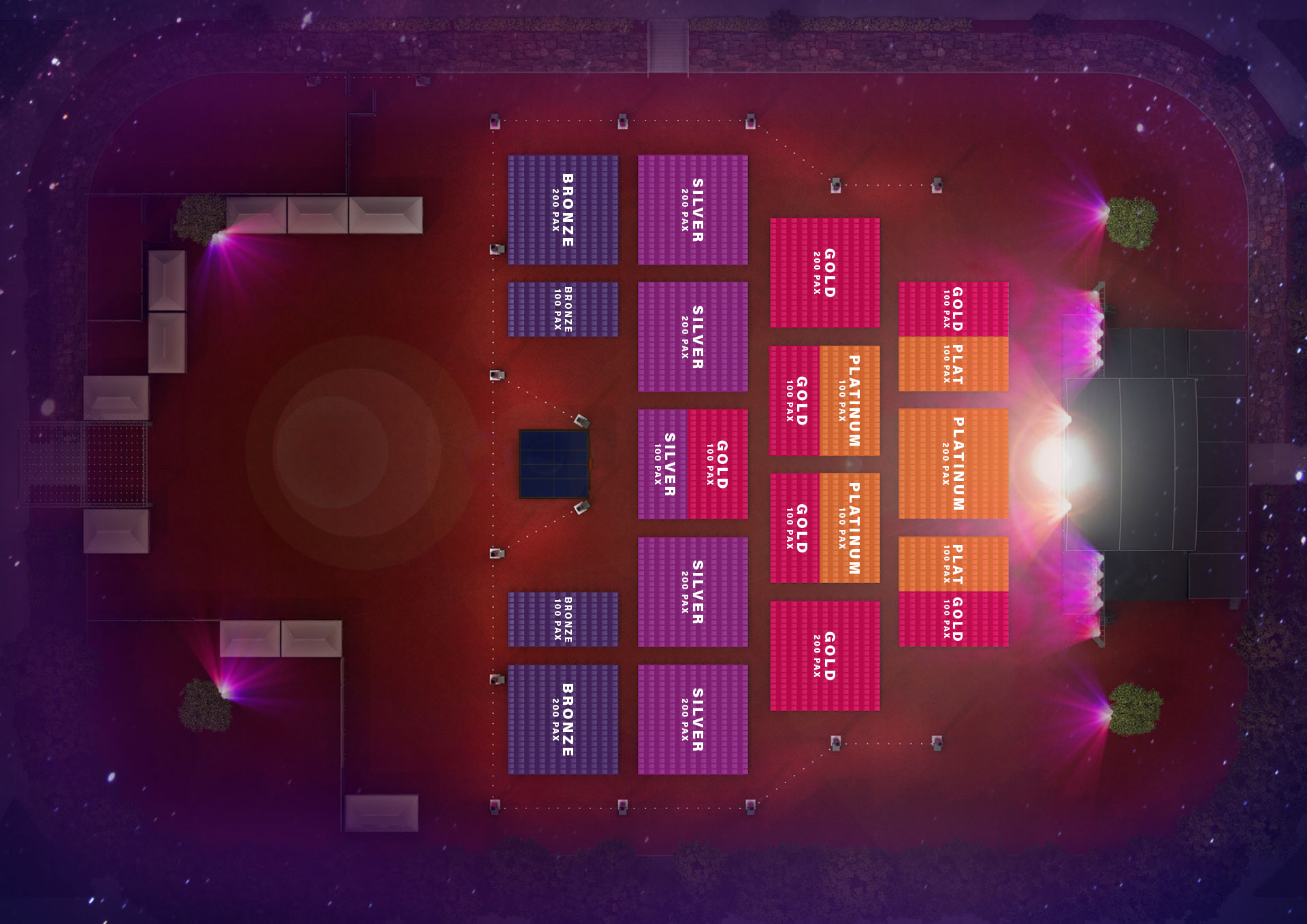 Local food stalls and bar area
Night At The Barracks
Night at the Barracks North Head  is a live event experience at a stunning venue which is a true hidden gem of Sydney. The event has been crafted to ensure the perfect balance between iconic live outdoor performances with the historical, ecologically diverse and natural beauty of the Barracks Precinct and wider North Head Sanctuary. This includes a major focus on audience health & safety best practice along with a goal of zero impact to the flora, fauna and wildlife abundant within the North Head Sanctuary.
The Second Sunday team have a strong focus on supporting local, and the delivery of the event will provide employment for in excess of 600 artists, crew and support staff. For more information visit our Support Local page.
Second Sunday
Manly based Event Producers Second Sunday have created Night at The Barracks  to provide a world-class concert series in their backyard that helps support the local community and give the arts and tourism industry a much needed boost. Founders and beaches-born locals, Brendan and Cam each have over 15 year's experience in the production and entertainment responsible for more than 300 events around Australia and globally.
We are also extremely proud to support local charities, with a donation from each ticket
purchase going to Bear Cottage and Lifeline Northern Beaches.
For more information or If you would like to get involved reach out to info@nightatthebarracks.com.au
BEAR COTTAGE
Bear Cottage is the only children's hospice in NSW – a very special place that is dedicated to caring for children with life-limiting conditions for respite and end of life care. At Bear Cottage, we believe that life, however brief, should be enriched, enjoyed and celebrated.
As part of the Sydney Children's Hospitals Network, Bear Cottage provides excellence in paediatric palliative and psychosocial care, delivered by an expert interdisciplinary team. As a respite facility, Bear Cottage is a home away from home, with staff and volunteers on hand to take care of the cooking and cleaning, allowing families to forget about the stresses of everyday life and to be able to spend quality time together.
Bear Cottage is a home full of special moments and cherished memories. A place where life is for living!
For more information visit:
LIFELINE NORTHERN BEACHES
Since 1972, Lifeline Northern Beaches has worked to prevent suicide and support mental health in our community. As a locally run not-for-profit, we're devoted to providing critical support services to the people from Kirribilli to Palm Beach. Our services include: 24/7 Telephone Crisis Support (13 11 14), Lifeline Text 6pm-midnight (0477 13 11 14), Face-to-face, low cost counselling, Financial counselling, Suicide Call Back service, Community Visitors Scheme, Support groups (for issues such as
grief and loss, depression, substance abuse and gambling), Corporate and community training. As an essential service, we continue to create connection with people in crisis and empower individuals and communities to be safe from suicide.
For more information visit:
Sustainability
Working closely with our sponsors, Night at the Barracks is proud to be making conscious decisions to prioritise sustainable practices throughout the event.
In collaboration with our partner ENGIE, we are thrilled to announce that Night at the Barracks will be powered by 100% renewable energy.
ENGIE will use its renewable energy and storage fleet to offset ALL power used on-site for the duration of the concert series.
Responsible Sourcing and Waste Reduction
Clothing merchandise made from 100% recycled materials
Food served in cardboard or wood containers
Digital programs
Signage designed to be broken down and reused
Carbon Emissions Reduction
Bike racks at event to encourage cycling
Encouraging people to use public transport (I.e., Ferry and Shuttle service)
This unique concert series aims to do so much more than bringing live performances to the people of Sydney. It's also supporting Australian artists and re-activating a much needed entertainment sector. Working with the Harbour Trust, Second Sunday created Night at the Barracks with the goal of creating essential financial support via a completely re-imagined performance space. The 2022 series resulted in the employment of 600+ performers and events professionals.
Additionally, the team at Night at the Barracks work closely with local businesses to ensure that the entire community benefits from the event in a region so dependent on a buoyant tourism industry.
We have made every effort to support local suppliers and engage with the community around Manly. Read more about our local partners and affiliated businesses here.